Date of Walk: October 14, 2001

Length: 6 mile loop
Time to Walk: 3 hours casual walking
Type of Walk: Beaches/Nature/Sightseeing
Location: Downtown Vancouver
Click image for larger versions
---
Parking
Parking is available in all areas of the park but you must pay for parking at one of the mechanized stations located in parking areas. The machines take credit cards or change. Once you have purchased a ticket, it is good for any of the parking spots in the park, allowing you to move your car and repark without buying another ticket. We parked near the entrance to the park by the Vancouver Rowing Club.

Lets Go!
The Stanley Park seawall is a paved walk that follows the shore of the peninsula that makes up Stanley Park. As Bill points out, the path is divided to separate walkers and those lazy enough to require wheels (skaters and bicyclists). We started at the Vancouver Rowing Club. You continue on past the Royal Vancouver Yacht Club and HMCS Discovery , a naval reserve base. As you walk along this area, there is a good view of downtown Vancouver across Coal Harbour.

As you carry on, Coal Harbour widens out into Burrard Inlet and the world famous Stanley Park Totem Poles are located across the road from the seawall. If you want to shorten the walk, you can cut off Brockton Point by walking past the totems until you return to the seawall. We carried on along the seawall and David stopped to admire a statue of Harry Jerome, a famous local athlete. Further on, you pass the Nine O'clock gun on your way to Brockton Point.

When you get to Brockton Point, there is a Lighthouse and your first view of Lions Gate Bridge and the North Shore. As you head for Lumberman's Arch, you pass the statue of the Swimmer and the figurehead from the SS Empress of Japan, a commercial ship that used to travel in local waters. A detour up the hill takes you to Lumberman's Arch, a huge arch made from a tree trunk. You'll also find a water park for the kids.

As you leave Lumberman's Arch, Lions Gate Bridge approaches. Eventually, you pass under the bridge to find another lighthouse. As you get closer to Third Beach, you come upon Siwash Rock, a finger of rock coming out of the water. This is a landmark because a local first nations poet, Pauline Johnson, had her ashes spread on Siwash Rock when she died.

A little further on, you come to Third Beach. David chose to stop at a concession stand and have a hot dog. Past Third Beach, you walk along a rocky beach until you get to Ferguson Point where you will find the Teahouse Restaurant in case you want something more substantial.

After you pass Ferguson Point, you pass from a view of Burrard Inlet to English Bay. Soon, you come to Second Beach. There is a swimming pool here but there is an admission fee. A large grassy area is popular with families for its playgrounds.

Here, you leave the shoreline to cross the base of the peninsula that forms Stanley Park. You cross Stanley Park Drive and go through a garden area to Lost Lagoon, a favourite place to feed the ducks and geese. Take the right fork when you get to Lost Lagoon. When you get to the end of the lake, there is a Translink bus loop.

If you're staying at the Westin Bayshore Resort and Marina, you can branch off here for a short waterfront walk back to your hotel. Otherwise, we follow the path to the seawall and return to the Vancouver Rowing Club, where we started. We went from there to the Frog and Ferkin Pub at 941 West Broadway. After all, six miles is a long walk!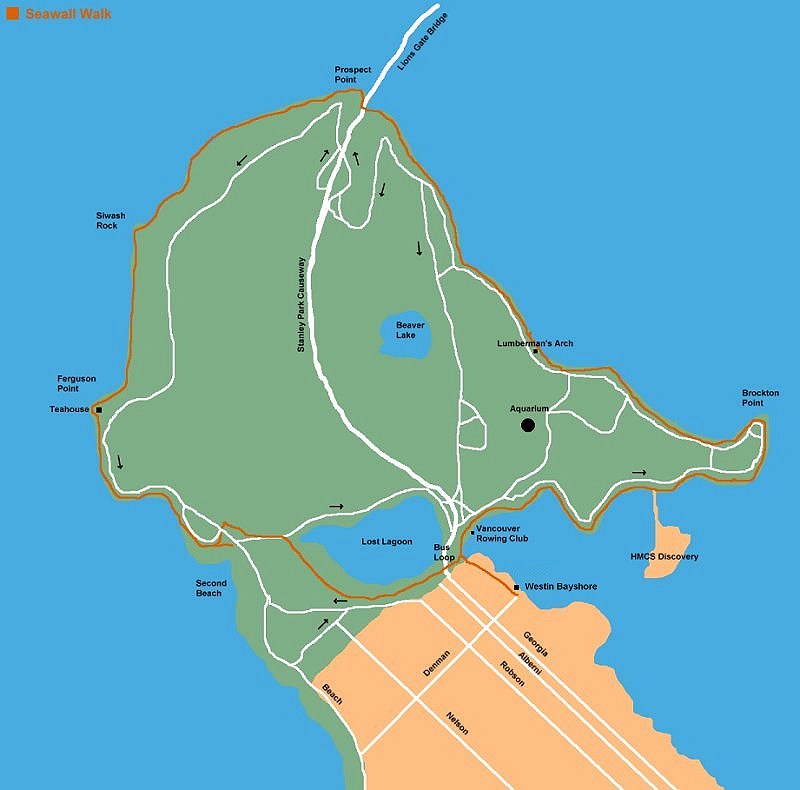 Copyright 2001, walkvancouver.com
Home | Walks | Maps | About Us | Pictures | Links | Contact Us