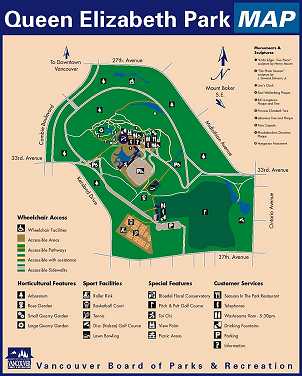 Date of Walk: August 14, 2001

Length: Leisurely (see text)
Time to Walk: It's up to you!
Type of Walk: Gardens/Conservatory/Scenery
Location: 33rd Avenue between Cambie Blvd. and Ontario Ave.
Click images for larger versions, avg. 70k
---
Parking
We chose to enter off Main Street. Go east off Main Street on 33rd Avenue. Drive into the park and keep left to get to a well marked parking lot that is the cover for a water reservoir. The parking is one dollar an hour but the machines take credit cards so coins aren't a necessity.

Let's go!
Queen Elizabeth Park is more of a place to spend a day than a walk. That's not to say there aren't nice walks. There are wonderful well-marked paths winding their way through formal quarry gardens, rose gardens, woods and spectacular views of downtown Vancouver.

If you choose to just go for a short walk around the two quarry gardens and the MacMillan Bloedel Conservatory area, you could easily do the walk in half an hour. You will have been treated to a pleasant walk through beautiful gardens.

We recommend you spend more time and take advantage of some of the less explored areas of the park. There are grassy expanses below mature trees made for picnicking. Also, there's a small pond with a stream for children to float boats in.

If you're into activity, there are tennis courts, pitch and putt golf, and Frisbee golf in the park. Across the street there is Nat Bailey stadium, the home of Vancouver's pro baseball team, the Vancouver Canadians. Instead of activity, David and Bill chose to pose for their picture portraits.

We went after work time and spent most of our time in the gardens. Unfortunately, there are no pubs in the immediate area and we had to drive to Marpole's Pub in the Coast Vancouver Airport Hotel to stave off dehydration.

Copyright 2001, walkvancouver.com
Home | Walks | Maps | About Us | Pictures | Links | Contact Us