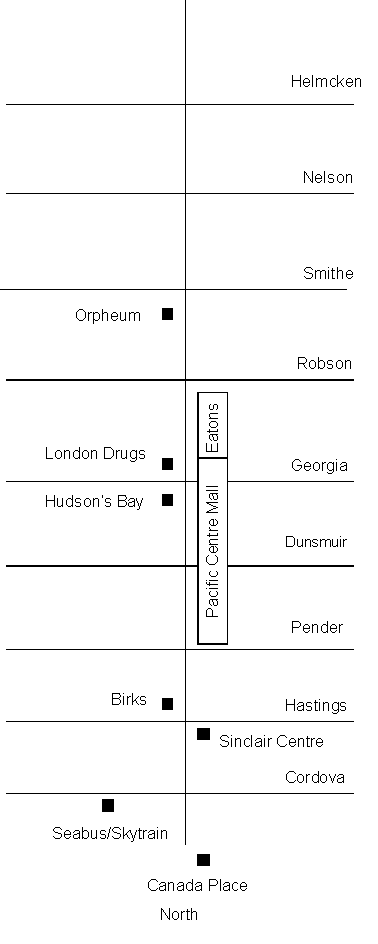 Date of Walk:August 27, 2001

Length:1 mile each way
Time to Walk:25 minutes (without stops) each way
Type of Walk:Shopping/Dining/Movie/Theatre/Adult (for the last 2 blocks)
Location:Downtown Vancouver
Click images for larger versions

---
Parking
We parked at a lot on the south side of Georgia St. a block and a half east of Granville Street. It cost $7 to park all day. We walked west on Georgia Street, past Seymour St. to Granville Street where we started our walk.

Let's Go!
Granville Street is not a regular downtown street. Several blocks do not allow vehicle traffic except transit vehicles. We come to Granville Street where it intersects with Georgia Street. Georgia and Granville used to be the heart of the Vancouver retail scene. With the onset of suburban malls, its importance has waned but it is still a major retail site. London Drugs is located on the southwest corner and stocks everything from aspirin to computers. The Hudson's Bay Company is a national department store and is located on the northeast corner. Eatons (now owned by Sears Canada) is another major department store on the southwest corner. The northwest corner is home to the Four Seasons Hotel, one of Vancouver's finest, if more expensive, hotels.

We turned right and headed north on Granville Street. The street is tree lined with hanging flower baskets. We walk on past Dunsmuir and Pender Street. There are some stores and coffee shops here but it is mostly just a pleasant city walk.

As we approach Hastings Street, we walk past Birks, one of Vancouver's oldest jewelry stores. Their antique clock is a Vancouver landmark. On the southwest corner, the Sinclair Centre with its distinctive green copper dome is a reminder of downtown Vancouver's rich heritage. As we continue down the last walk, we come to the Waterfront and connect to the Canada Place/Gastown walk. We are also only a block west of the Seabus and Skytrain station that give you access to other walks.

We turn around and walk back to Pender Street. A half block west on Pender Street is the north entrance to Pacific Centre Mall. This is an indoor mall that runs from Pender Street, past Dunsmuir and Georgia streets to Eatons which ends at Robson Street. This makes an excellent indoor walk for one of Vancouver's rainy days. The south end of Eatons at Granville and Robson, is the start of the Robson Street walk.

As we cross Robson Street, we enter the theatre row of downtown. There are three major theatres and the Orpheum Theatre. Built in 1927, the Orpheum is the grand old lady of Vancouver theatres and home to the Vancouver Symphony Orchestra.

As you continue south across Smithe Street, you enter a part of Granville Street we wouldn't recommend for families. It is a home to adult book stores and theatres, bars and street people. It even warrants its own police storefront. However, it is safe to walk and definitely adds a different dimension of local colour to your trip. David was so taken with the ambiance that he almost got a tattoo while Bill checked out a discount drugstore.

We stopped in at the Lennox Pub at the corner of Robson Street and Granville Street as we headed back to the car.

Copyright 2001, walkvancouver.com
Home | Walks | Maps | About Us | Pictures | Links | Contact Us